Video Captures A Shelter Dog Holding Hands With His Rescuer On Their Drive To His Foster Parents
Having someone to comfort you during challenging times is such a blessing. Some words of encouragement or a simple touch would eventually help in relieving the anxiety. So, for those who are going through a rough patch, you might want to consider cuddling or holding your forever pawed buddy.
A 30-second video of an anxious pup and his rescuer caught a lot of attention online. The two held each other's hand for around 2.5 hours. This goes to show that most pawed buddies are expressive and affectionate.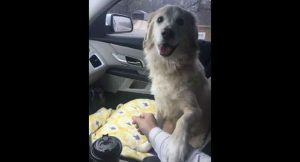 Kim Mozena Rezac was the rescuer on the video. She is the animal welfare director for Animal Rescue Corps and she also founded the Goofy Foot Dog Rescue.
The four-year-old pup was grief-stricken due to the unexpected loss of his owner. Regan becomes a shelter dog right after. He was then left alone with no one to take care of him.
After the unfortunate event, he ended up in Lebanon, TN, in one of the animal rescue shelters there. The new place he ended up with and everyone around him was total strangers.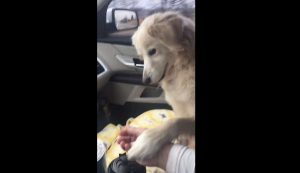 It's such a good thing that there were people like Kim who care for ill-fated pups. She said that it took her three days to get close to Regan. The rescue volunteer did everything to gain the dog's trust.
Kim said that during his stay at the shelter, the pup appeared scared and afraid, but when he got him into the car, he looked grateful. At the time the video got captured, Kim and Regan were heading to Huntingdon, TN to meet Regan's foster dog parents.
Currently, the couple who took Regan in was very happy to have him as a new family member. Hopefully, if everything goes well, his foster dog parents will become his second forever home.
You guys…So this girl's person died and she found herself homeless. She was in our shelter for a couple days and I felt sorry for her so I brought her home. How sweet is she?????#jukinmedia

Posted by Kim Mozena Rezac on Wednesday, February 14, 2018
Credit: Kim Mozena Rezac on Facebook