Bear the Blind Pit Bull Finds Happy Home – A Melt Your Heart Story!
Taking in a special needs dog requires extra patience. They will need a lot of care and may take more time and be harder to train.
But as Katie in the following story learned, it's often worth the effort.
Bear, a pit bull, was only a puppy when he was hit by a car in New Jersey. The driver left without stopping or even trying to help him.
A kind stranger stopped and took him to an animal hospital. Bear had serious injuries from the accident including damage to his eyes. It was so bad that both eyes had to be removed.
To make the story even sadder, when his owner arrived they chose to leave him instead of taking him home. But despite the puppy's rough start, his story has a happy ending.
Sarah, who worked at the animal hospital told her daughter, Katie, about the abandoned dog. They decided to give the dog a forever home despite his health problems. In her words, "We decided to open our hearts and home to the poor soul."
Katie admits there were challenges along the way. Bear was understandably terrified of cars and loud noises. New environments were terrifying for him.
But with time and lots of love and attention, Bear learned to deal with his blindness and gained new confidence. He's a happy, contented dog living with people who love him. And he returns that love. Katie says that whenever she's down he senses it and always tries to comfort her.
Katie encourages future special needs dog owners that the love you receive is well worth any sacrifices.
If you want to learn more about caring for a special needs dog you will find information here:
What to Do Next: Download Your Free "So You Think You Want to Adopt a Dog?" Kit
Adopting a dog is one of the most wonderful and rewarding things you can do, but it's not something to be entered into lightly.
Before Making This Big Decision, You need to know:
If adopting a dog is right for you (it may not be)

What type of dog is best for you or your family

What you need to be able to care for a dog
That's exactly why we've created this free downloadable kit to help you make the best decision for you or your family.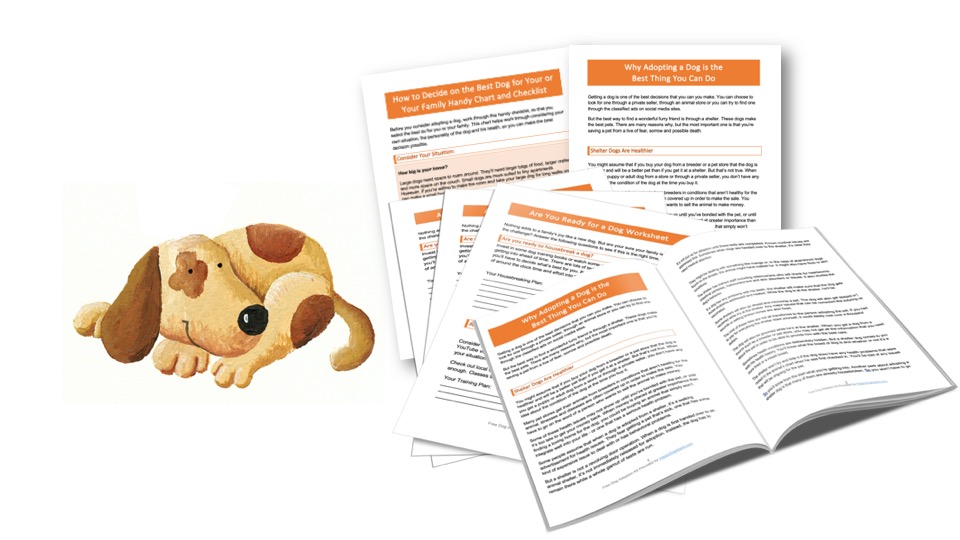 Download This Free Kit for Instant Access to:
Why Adopting a Dog is the Best Thing You Can Do - discover 10 amazing benefits of adopting a dog, instead of purchasing from a breeder.
Is a New Dog Right for You? - Use this handy worksheet to ensure you're ready to welcome a new dog into your home?
How to Decide on the Best Dog for You and Your Family - This checklist will help you figure out exactly what kind of pet is best for you.
Everything You Need to Welcome a New Dog into Your Home - Another handy checklist to ensure you're ready to welcome the newest member of your family.
You can download this kit instantly and it's absolutely free. Just enter your name and email address below.
We'll also keep you up-to-date on tips for your dog, amazing dog stories and products we'd love to share with you.