Free Template: Create & Print Your Own Dog Lover Note Cards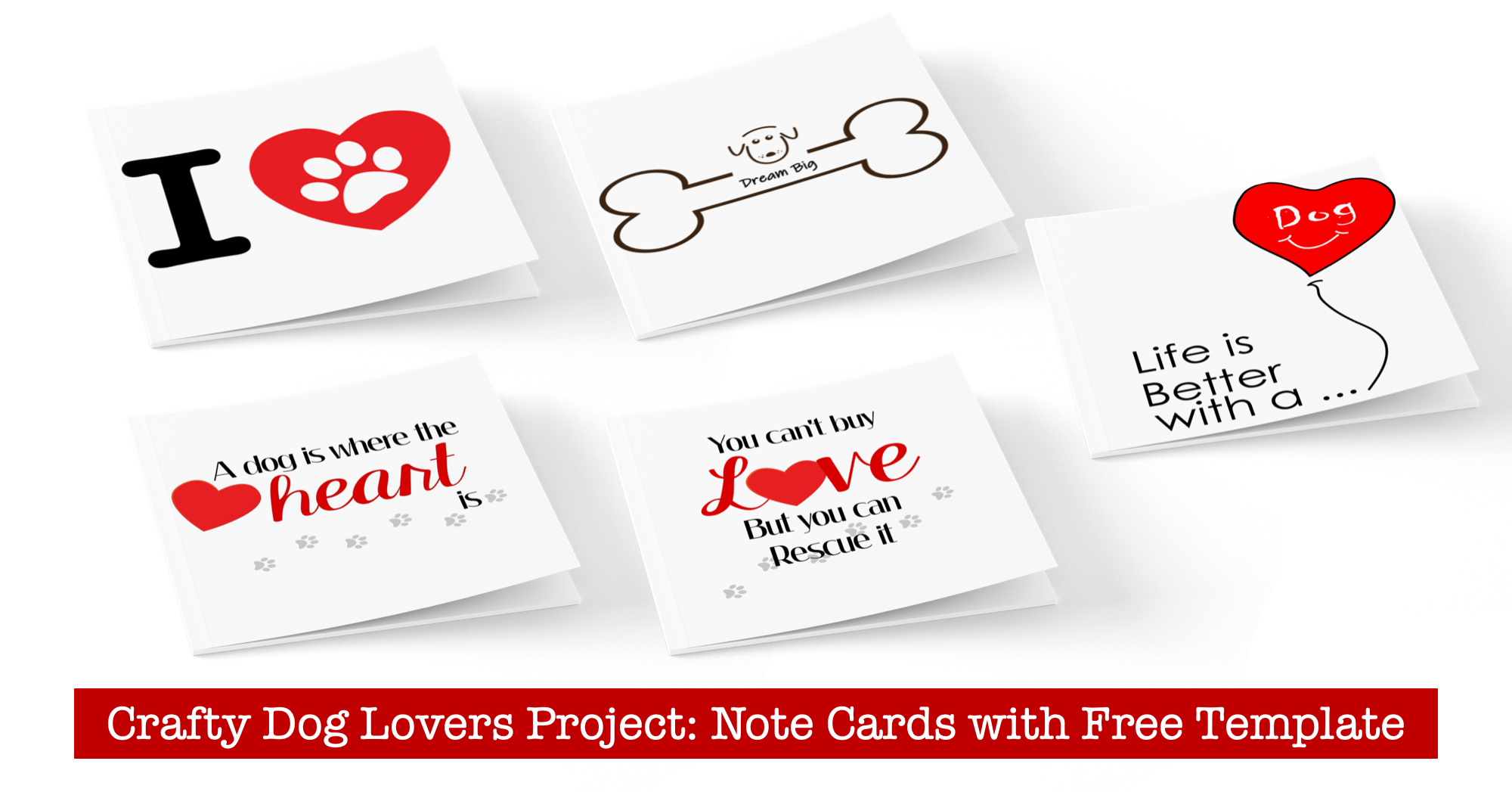 It seems like the art of handwritten notes is dying, but their impact cannot be denied. Texts and social media comments are a dime a dozen, but everyone loves and appreciates a special note card handwritten by someone to say thank you, they're thinking about them or just because they care.
You can easily create your own note cards. We've even got blank templates you can download for free.
Or hey, you can download some of our dog-themed note card designs of Etsy to speed up the process dramatically.
Supplies and Tools Needed:
Microsoft Word or other software that can edit .doc documents.
8 1/2 x 11″ paper or card stock
Printer (color if you want to print your cards in color)
How to Design Your Own Cards
If you have Microsoft Word, it includes note card templates. They are filled in with designs, but you can edit them and create your own. You just choose "File" -> "New From Template" -> and search for "card" or "note card" and modify any of those designs.
But let's make it WAY easier for you. Just download the free blank template here (.doc).
Or if you want pre-made designs, grab our 5 pack of printable note cards for dog lovers here.
The template a simple document, divided into 4 rectangular areas. The top 2 rectangles are your first card. And the bottom 2 rectangles are your second card. Add your design to the two right squares to complete your card. You can add text, images and anything you want.
You could add text, your favorite dog quote or even grab some free images here.
Here's a visual example, showing where you'd add your design…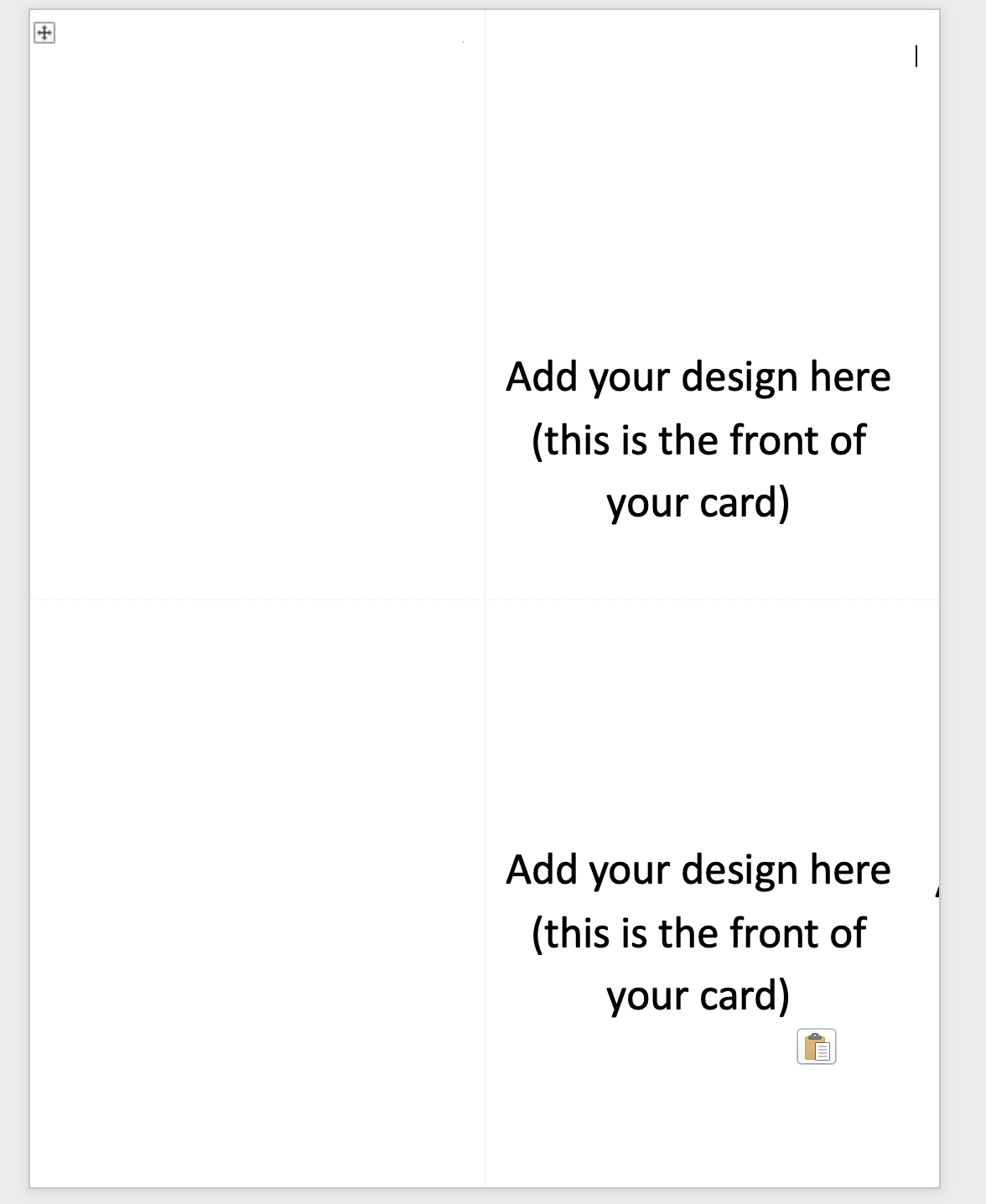 If you want print something on the back of the card, you can add it to the rectangles on the left.
How to Print Your Cards (We Design or You Design)
Now let's get to printing. Whether you design your own cards with our free template or you grab our 5 pack of printable note cards for dog lovers here, printing your note cards is simple. All you need is 8 1/2″ x 11″ paper or your choice of card stock in the same size.
Step 1: Print the number of sheets you would like. There are 2 foldable note cards per page.
Step 2: Use a paper cutter for best results to cut the sheet along the middle horizontal line on the page. If you don't have a paper cutter, you can certainly use scissors, but a paper cutter will yield more precise results.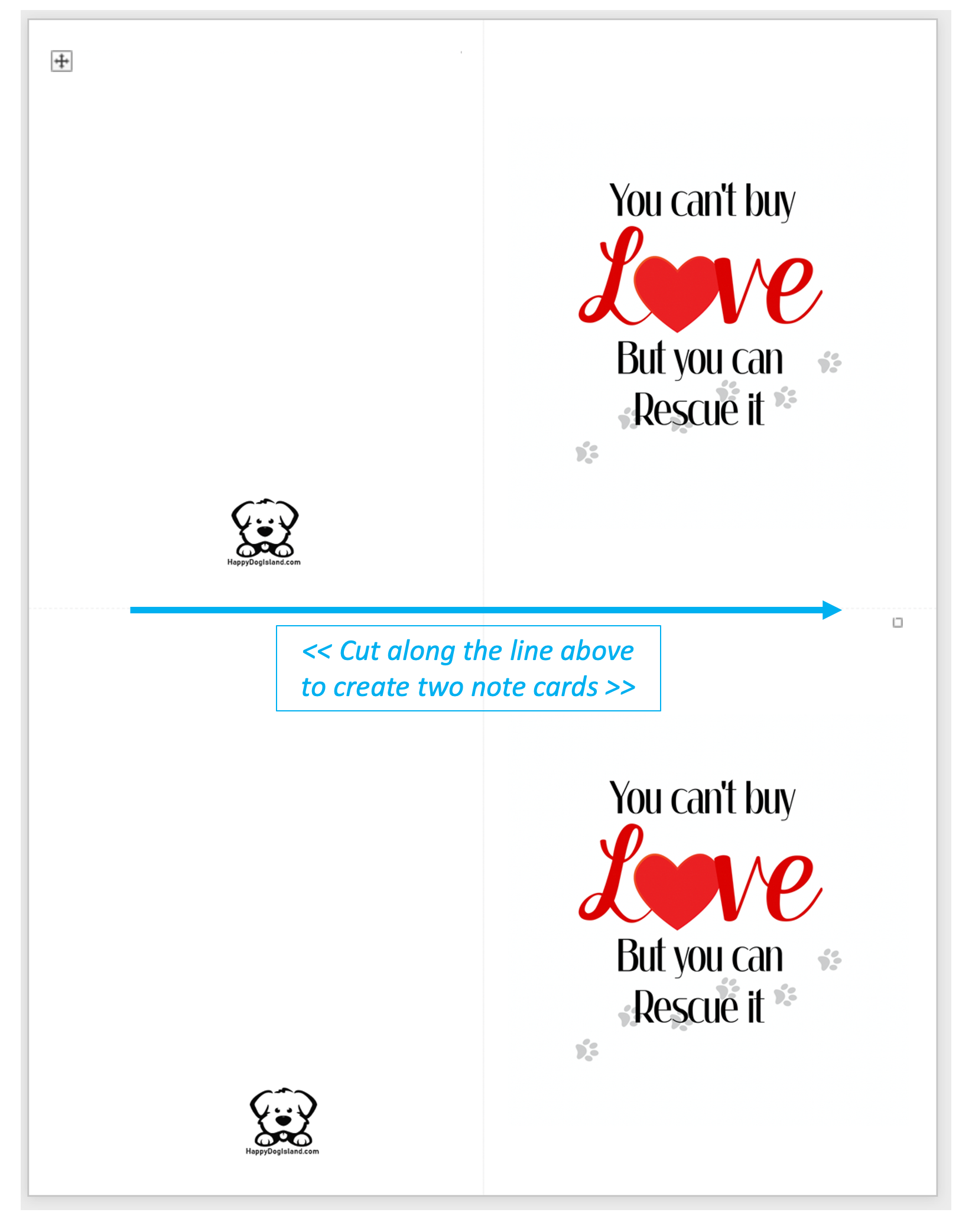 Step 3: Once you've cut your paper, you now have two cards. Fold in half with the main design on the front.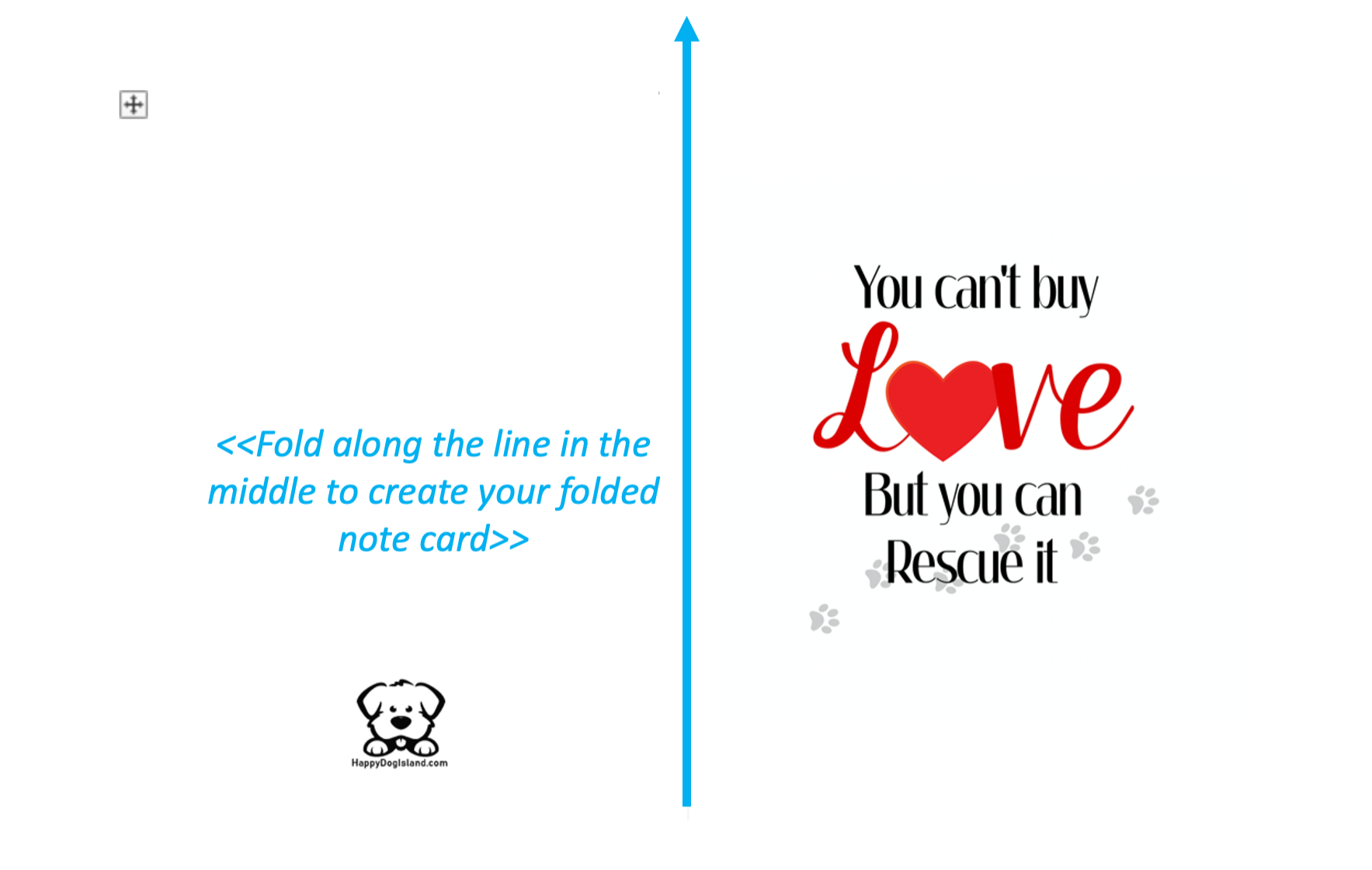 That's all it takes.
About Our Done-for-You Printable Note Cards for Dog Lovers
We'd love to make it easier for you to print dog-themed note cards, so we've put together 5 of our favorites for you on Etsy here. And the great thing is, part proceeds of each sale goes to support dog rescue organizations.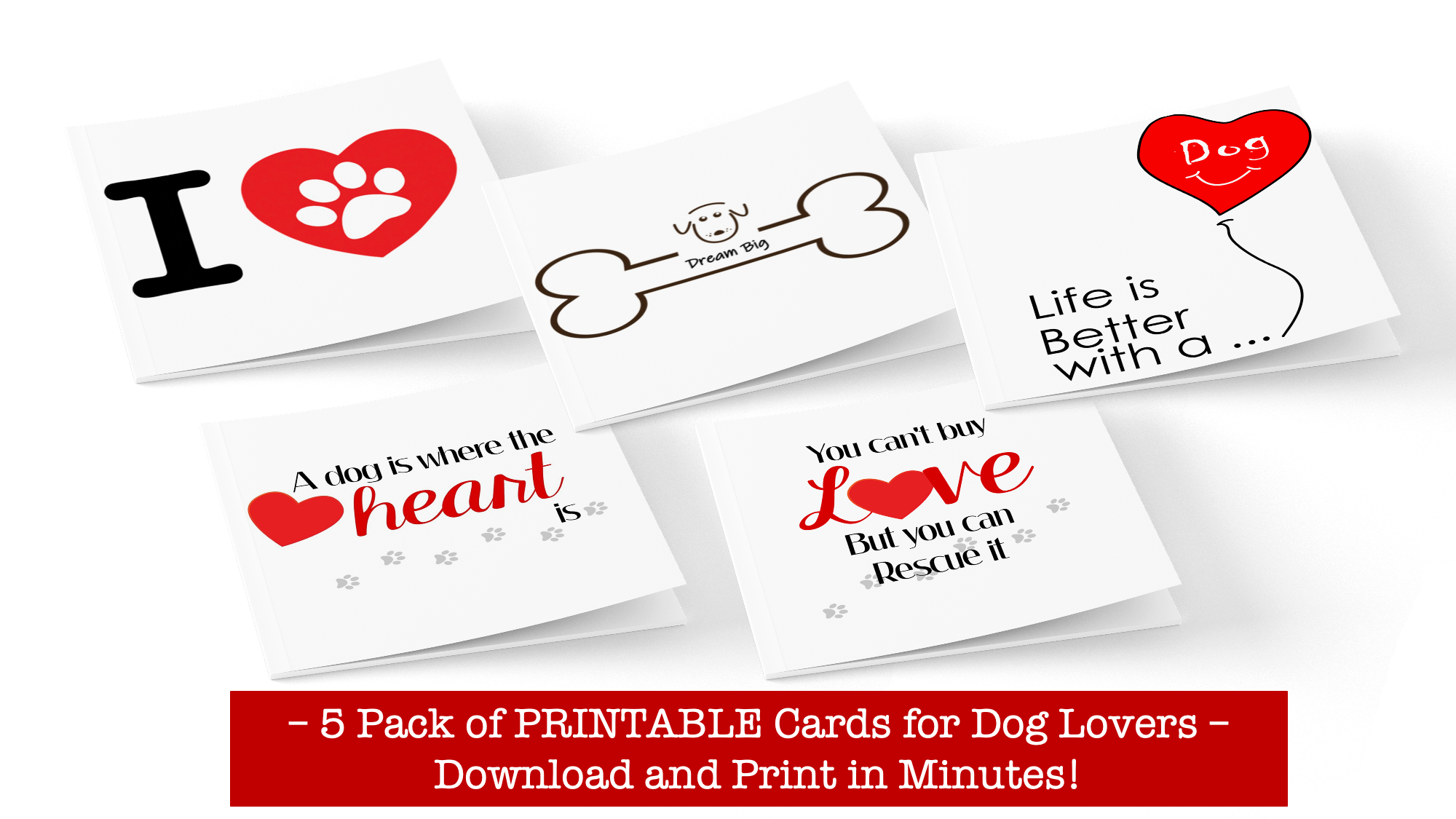 You'll get all 5 designs in .doc and PDF format, so you can easily print from your own computer. Then just follow the cutting and folding instructions above and you're good to go.
Fun and Thoughtful Ideas for Your Cards
There are plenty of ways to use your note cards to spread cheer or show someone you're thinking of them. A few ideas include:
To say thank you
To let them know you're thinking of
Sympathy
To send congratulations
Birthday
Anniversary
Graduation
Getting a new puppy (of course!)
Apology
Encouragement
Recognition of achievement
Share awareness of dog rescue
To introduce yourself to someone new
Invitation
Wish good luck
Just because
There are so many opportunities to have fun with your own printed cards…and to connect with others. Go ahead and use them all.