Super Simple Dog Wall Art Tutorial (No Art Skills Required)

If your a dog lover who uses the Internet (obviously, right?), you've probably seen all those cool typography prints that look so awesome, but they can be quite expensive…and right now, shipping is as slow as molasses, so what's a dog lover to do?
The answer is simple. Make your own dog wall art.
This DIY project is fun. It's inexpensive. And it can be done pretty darned quickly.
What You Need and What To Do Make Your Wall Art:

High quality image in the appropriate size for your frame.
Aim for images of 200-300 dpi (dot per inch). You can use tools like Photoshop if you've got the skills. Or take a look at drag-and-drop software like Canva or an app for your phone like A Beautiful Mess.
You could choose your favorite dog quote or come up with other fun or inspirational sayings. If you don't draw, grab a stock photo drawing or add other cute elements to your design.
Not a graphic artist?
If you need help with graphics and/or want to save time, we've got a growing collection of graphics you can download and print in our Etsy Shop. We provide images in a variety of sizes and you can even resize them using a photo editor to suit your needs as well.
If you're looking for the designs in the image above, you can find them at the following links:
* Dream Big
* Dogs Before Dudes
* Be the Person Your Dog Thinks You Are
And here's another one you might like too…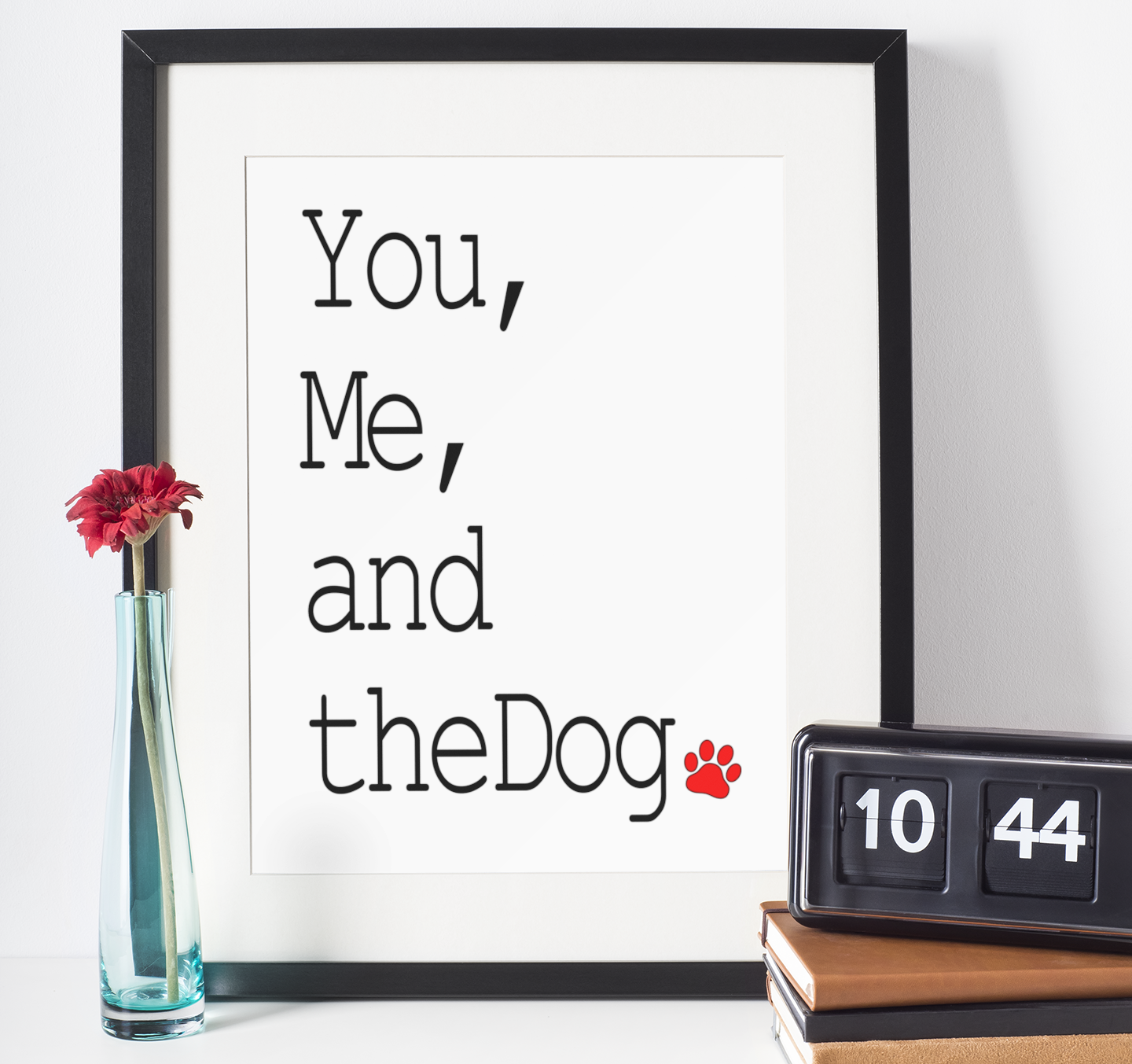 Get the You, Me and the Dog printable here.
Printer.
If you're going to print from home, you can use any old printer you want if you get the results that make you happy. If you want a quality printer at an inexpensive cost, try a Canon Pixma iP8720 Inkjet Printer, which is usually under $200.
64 or 80 lb cover stock paper in the appropriate size for your frame.
Or if your print is larger than you can print at home, your printing company will likely supply the paper you need.
Photo frame.
If you're on a budget, your local dollar store will often have a decent collection of frames you can get on the cheap. Or look in the discount section of your favorite craft or furniture/home decor store. They'll probably have what you're looking for. You can also find used frames a ta thrift store.
Decide whether you want to use a mat or not. A mat will change the size of available for your print, so keep that in mind. The color you select is completely up to you, but for something bold, you may want to choose a mat of a similar color to the accents in your graphic design.
A thinner, sleeker frame will often look best with poster art, but the final decision is up to you.
Ensure your print is cut to the appropriate size, place in frame and hang your masterpiece.
Alternative Printing and Framing Wall Art Ideas
You can send your images to be printed at places like Staples, which may be necessary if you're making a large print.  Or you can have a wide variety of types of wall art shipped already done-for-you, using Shutterfly. Craft stores like Michael's will often frame your work for you as well, but can be rather expensive…unless you've got a coupon!
But consider best part about choosing the budget option…you can afford to swap out your art often, so be sure to visit our Etsy Store to see our latest designs to freshen up your home decor whenever the mood strikes.