Anti-Anxiety Dog Bed Product Review – A Cozy Fashionable Stress-Reducing Option…But Do They Really Work?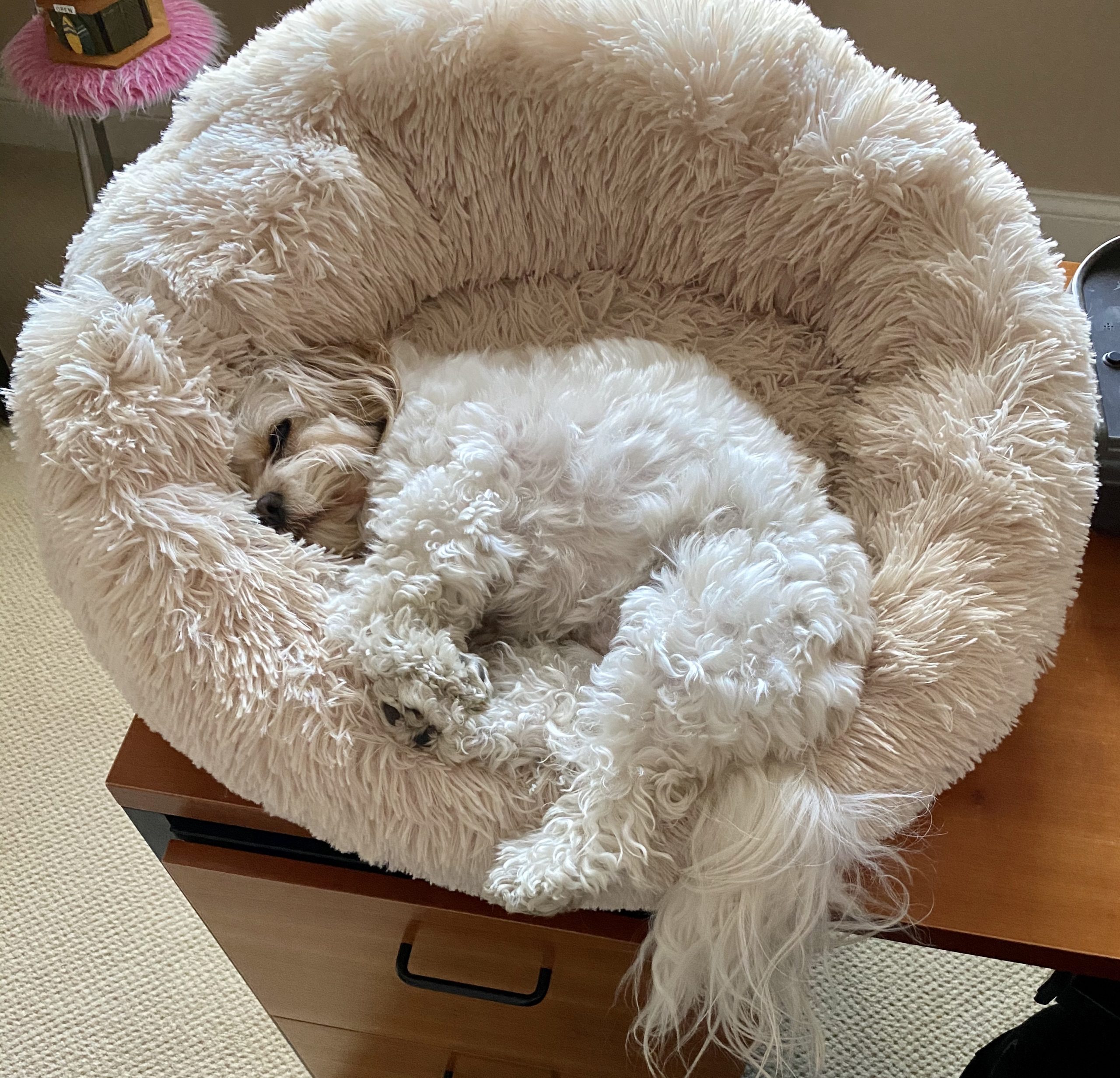 You've probably seen this soothing dog beds all over the Internet and wonder if they work. If you're looking for a dog bed that is cozy, fashionable looking and provides the added benefit of potentially easing your dog's anxiety, the Anti-Anxiety Soothing Dog Bed is a possible solution.
Product Overview:
This Soothing Bed comes in a number of colors and looks great in just about any decor. But more importantly, it's designed to be comfortable for your dog and even provide health benefits, like soothing your dog and calming her anxiety. Choosing the correct sized bed for your dog is important, so they get the benefit of being protects within the bed's soft and calming rims.
Colors: white, light coffee, beige yellow, red, dark grey, dark coffee, rose, pink, purple, beige, blue, light gray
Size: be sure to choose the right size for your dog for best results. Size below is based on diameter of the bed.The manufacturer also says to allow 1-3 cm deviation in size due to manual measurement.

XS: 40cm/15.8″ (Suitable for 2.5kg/5.29lb pets)
S: 50cm/19.7″ (Suitable for 5kg/11.02lb pets)
M: 60cm/23.6″ (Suitable for 9kg/19.84lb pets)
L:  70cm/27.6″ (Suitable for 12kg/26.45lb pets)
XL: 80cm/31.5″ (Suitable for 15kg/33.06lb pets)
XXL  100cm/39.4″ (Suitable for 20kg/44.05lb pets)

Material: 100% breathable cotton
Reducing Stress and Anxiety
If you have a dog that is anxious, you know how heartbreaking it can be and how frustrated you can get trying to find a solution. Of course, there are plenty of medications your veterinarian could recommend, but here is a drug-free option to help bring your dog comfort.
It works because your dog is enveloped inside the soft bed and is surrounded its functional and attractive rims. This creates a calm environment reminiscent of being safe near their mother, which is very powerful dogs and one of the best ways to curb anxiety.
Which Dogs Love The Soothing Dog Bed?

The Anti-Anxiety Soothing Dog Bed is suitable for most dogs and comes with high ratings because most dogs who try it absolutely love it. Again, it's important to get the right size for your dog, but realize the pricing goes up the larger the bed gets, but the investment is well worth it.
Owners like it too because they see their dogs happy. Plus, the bed looks good in just about any room and it's easy to wash and clean. It's machine washable and should immediately go into the dryer after washing to keep the faux fur fluffy and to prevent it from matting.
Our Instagram friend, Daisy B the Cavachon even has TWO soothing beds that her grandma purchased for her. As you can see below, she absolutely loves them and even has one of her beds on her mom's desk, so she can be close to her mom while she works.
Daisy loves being in enclosed, comforting spaces like many dogs do and often sleeps in the bathroom sink as her mom gets ready…so this bed is also perfect for such a pup.
Where to Buy the Anti-Anxiety Dog Bed

Because we enjoy this product so much and believe it offers a cozy and safe plays for dogs to rest, we offer the Anti-Anxiety Soothing Dog Bed on our website. You can also check out the various reviews to ensure you're making the best buying decision.