Ginger The Dog Adopted after 7 Years in a Shelter Thanks to The Amazing Power of Social Media!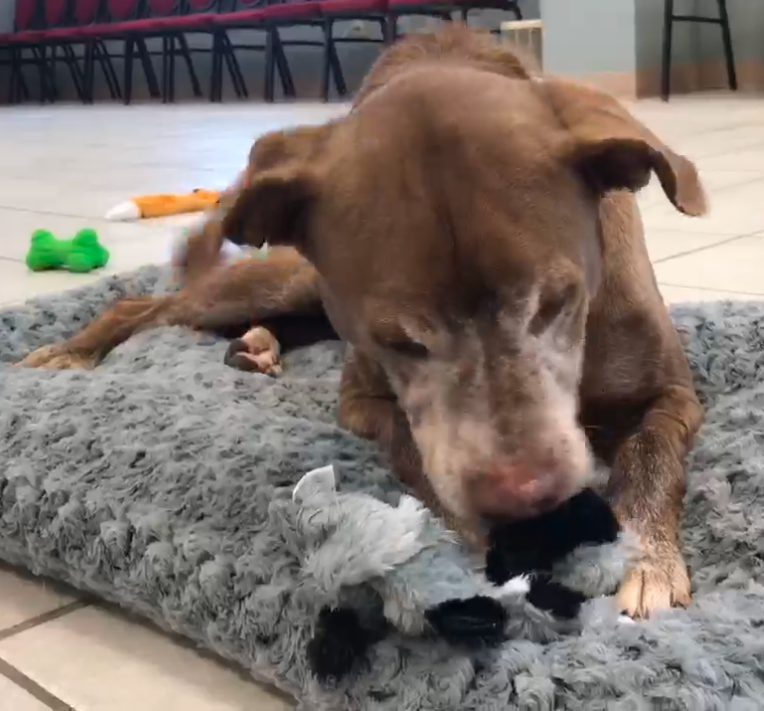 A rescue dog who spent over seven years in a shelter has finally found her forever home – thanks to social media.
When Ginger first arrived at the Dogwood Animal Shelter in Missouri, she had behavioral and health issues making her not eligible for adoption at that time. But with the shelters care, she was able to recover and become adoptable.
However, she remained in the shelter, year after year. It was important that she be in a home with no young children or other pets. This reduced her opportunities for adoption. It looked like the nine-year-old Lab mix would have to spend the rest of her life there.
But the shelter never gave up hope of finding Ginger a real home.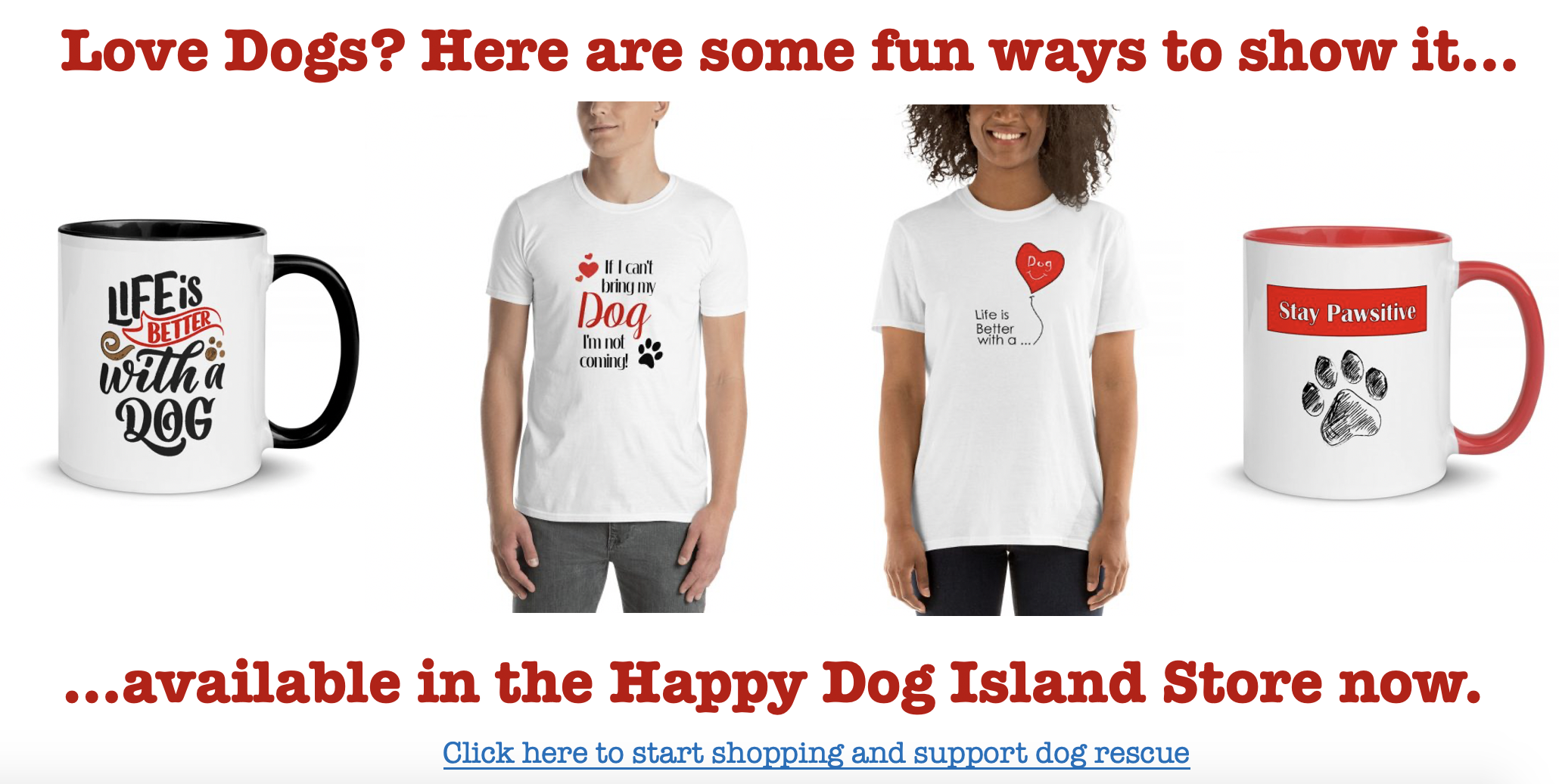 Instead, they launched a series of posts on social media, starting with their Instagram account mission_driven_goods The post showed Ginger in her kennel with a sign that said, "Hi! I'm Ginger! I've been here waiting 7 years, 9 months, 2 weeks, 2 days. I'm a good girl! I promise! I just need a 2nd chance."
Thank you for the outpouring of concern about Ginger. Long term residency for animals in a true no-kill shelter is a problem not unique to Dogwood Animal Shelter. Like most rescue dogs, Ginger came in to Dogwood with her own set of medical, emotional and behavioral issues which made her unadoptable for a long time. Dogwood's staff and volunteers have diligently worked to address those issues and to locate a suitable home for her. She is and has been adoptable. The fact that she would be best placed in a home with no other animals or small children has narrowed the possibilities, but we never give up trying. Come visit Dogwood and tour the facility, where you'll find that our kennel floors are heated and there's a Kuranda Bed for every dog. Meet the dedicated volunteers and staff who walk and care for the animals daily. See first hand the high level of care our animals receive.

Posted by Dogwood Animal Shelter on Tuesday, March 10, 2020
The post was shared over 32,000 times. Eventually it was picked up by Paws Up, an account about pets started by Ellen DeGeneres.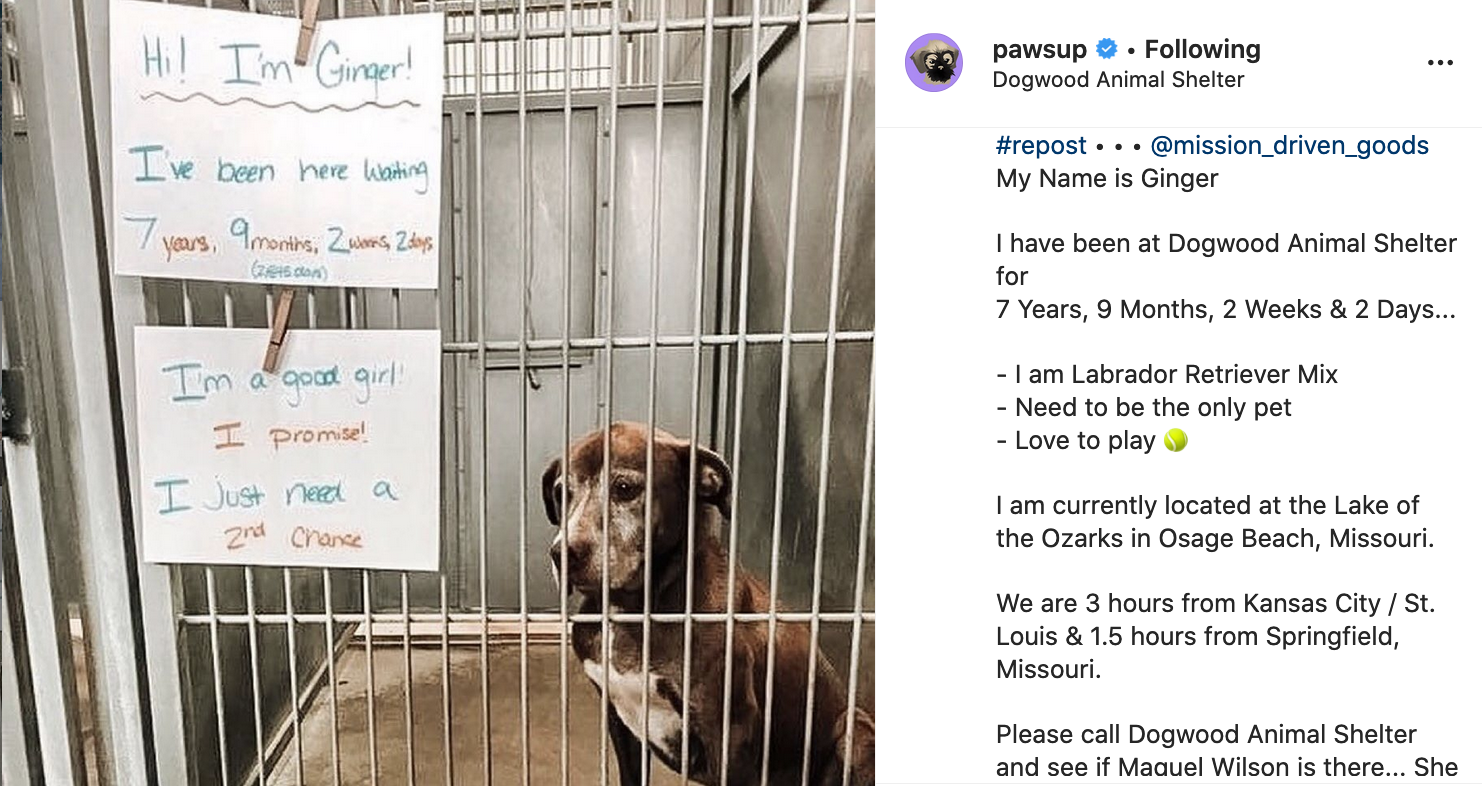 Shortly after the post went viral the phone started ringing at the shelter. There were over thirty applications wanting to adopt Ginger. Her perfect forever home was found – a home with no children, a backyard, no other pets, and a kind a loving owner who was willing to give Ginger a second chance.
Though many people want to adopt puppies and younger dogs there are a lot of benefits to adopting an older dog. They are usually already trained and housebroken. They don't have the endless energy and need for excessive exercise, and they're less likely to get into endless mischief chewing up socks and furniture.
Their personalities are already formed and their needs are understood making it easier to know what kind of home they need. As was the case for Ginger. It allowed the shelter to match her with the perfect owner.
Older dogs just need a second chance with the right person.
Want to Help a Shelter Dog Get Adopted?

Find your local shelters Facebook, Instagram and Twitter accounts and follow them. When they post about dogs up for adoption share their posts with your friends and followers. Ask them to do the same.
When shelter posts go viral the chances of these dogs being adopted increases dramatically. Many rescue dogs are just waiting for the right family to give them their second chance. Your share my bring a sweet dog and a loving family together.
If you've ever wondered about the power of social media, just ask Ginger who is now happily living the dream at her new home.