12 Fun & Easy Home Business Ideas for Dog Lovers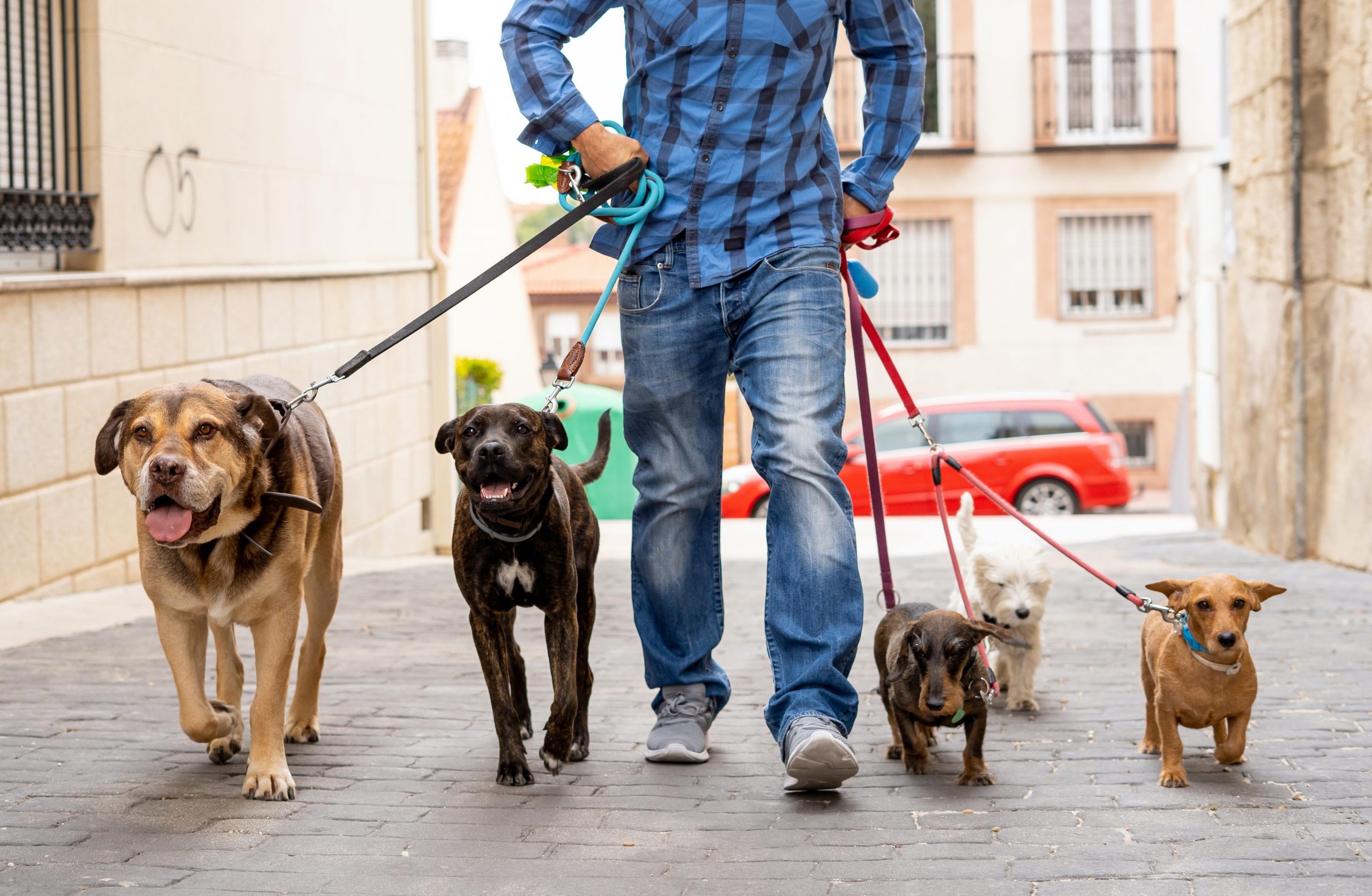 We're living in some challenging economic times where good jobs aren't always easy to find and more people are creating their own income opportunities. Whether it's to supplement income or starting a full-fledged business, did you know that you can start earning money from your love of dogs?
If you're looking for some ideas to make money from your love of dogs, we've got 12 of them for you. Some might be obvious and some you may not have thought of before.
And the great news is many you can start right away, with little to no upfront costs and from your own home.
What could possibly be better than that? Let's get into the ideas…
#1: Dog Walking
A very simple business idea that you could start today. You could off your services to people in your community directly or list yourself on a site like Rover. Bonus is, you create some very healthy habits for yourself while you get to spend time with dogs.
Here is a dog walker business start up kit you might find helpful.
#2: Dog Sitting
One of the biggest stresses for dog owners is going on holiday and leaving their dog behind. This is where you can step in, make some money and have a sweet dog to cuddle with. You could host dogs in your home and many owners will want you to stay in their home with their dog is most comfortable.
If you're looking for a quick start guide to starting your own pet sitting business, go here.
#3: Dog Daycare
Many dog owners need help caring for their pets while they are at work. You could set up a dog daycare in your home to care for these dogs. This is a great option for ongoing clients as many will want to have daily care for their pets.
#4: Dog Groomer
Everything from baths to haircuts, trimming nails and cleaning ears…the things most dog owners loathe doing, but you can become the expert through training and practice. Mobile grooming is becoming a booming business too, so instead of clients bringing their dogs to you, you can charge more by bringing your service to them. This is the kind of business that easily grows through word of mouth when you do a great job.
#5: Dog Training
Got a knack for turning the most ornery Fidos into well-behaved angels? Why not turn this into a business. You can do one-on-one training, home visits or conduct classes. You can do obedience, behavioural, agility, vocational and other kinds of training.
#6: Dog Products
Did you know dogs are a $99 billion YEARLY business (according to APPA) in the U.S. alone? Dog owners spend tons of money buying products for their beloved pets. This can include toys, training products or basics like leashes, collars, crates, gates and tons more.
#7: Dog Boutique
Even doggies have to be fashionable and the possibilities are endless here. You can have a low end doggy boutique that specializes in selling high volume in lower cost products. Or serve those high society pooches and their owners with exclusive doggy couture.
#8: T-Shirts and Novelty Items for Dog Lovers
It's kind of crazy, but custom t-shirts are a growing business, expected to grow to $10 Billion yearly in the U.S. by 2025 (according to Credence Research)…and dog lovers can't get enough of these novelty-type items. You can also sell mugs, magnets, blankets and all kinds of products that help your customers show just how much you love dogs.
By the way, if this opportunity is of interest to you, we have a large collection of product templates for you in our EkitHub Commercial Etsy Shop here. No need to start from scratch as we've put the designs you can create products from and sell for you.
#9: Dog Bakery and Treats
Okay, you've probably seen those lucky doggies on Instagram with those fancy birthday cakes. YOU could make money making such cakes or if you don't want to get that fancy, dog owners are willing to spend a ton of cash on dog biscuits and other treats. There are more likely more rules and regulations for starting such a business from your home on this one, so do your homework…but there's a lot of potential income AND fun in store for you if you do.
#10: Homemade Dog Meals
More and more people are turning to home-cooked meals for their dogs and it's no wonder, most commercial dog food is simply processed junk food. Problem is, the average dog owner doesn't have time to make these meals and that's where you come in. Again, check with your local laws on starting ANY business, but even more so a food-based business.
#11: Poop Scooping Service
It's a dirty job, but somebody's gotta do it, so why not you? It's fairly easy to get started…you don't need a lot of fancy equipment. Just a pooper scooper and access to a facility that accepts animal waste (check in your local area). Even though it might be a little gross, it's a perfect business opportunity because your clients will hire you on a contract basis, so you get ongoing work and revenue coming in.
#12: Dog Portraits
Got an eye for photography and a way with the doggies? A pet photography business might be right for you. You can have an in-home studio or scout out great outdoor locations for taking photos…or take special location requests from your clients.
What Next: Important Home Business Start Up Steps
No matter what business you're thinking of starting, there are a few steps you'll need to take to get started. Here's a super quick overview.
#1: Choose the right business for you and get started the right away. Here is a very handy pet business guide that can help you make your selection and give you the step-by-step help to get started.
#2: Check your local laws on any requirements for starting a business. Rules and regulations will vary greatly, depending on where you live.
#3: Create your own website. If you want to get clients, they need to be able to find you, so a website is a must. If you have no web design experiences, we recommend starting with the free trial of the easy website builder here.
#4: Grow your social media presence. Social media is a great place to find clients and grow your audience. For pet sitters, here is a useful social media course that might interest you.
As you can see, there are many ways to create a home business from your love of dogs…and they can relative easy and inexpensive to get started.