Enter Happy Dog Island's Pupfluencer Drawing Contest (Plus Random Draw) – No Art Experience Required to Win Prizes and Support Dog Rescue

If you love dogs, you're gonna love this. Join us for our Pupfluencer Drawing Contest to win fabulous prizes and support our community whose goal it is to see as many dogs rescued as possible.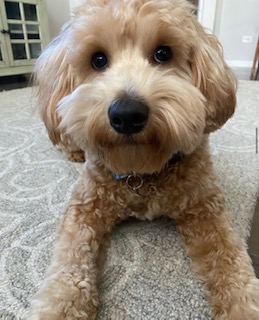 April's Drawing Contest Subject:
Gilbert is a world-famous Mini Golden-Doodle from the suburbs of Chicago, USA. He is a very handsome, but mischievous dood who loves to chronicle his run-ins with The Warden (we think that's his mom). He has lots of girlfriends, loves to hide in sofa cushions and is a vigilant safety monitor for his human brother and sister when they eat.
He's been keeping busy, but getting into a little trouble during quarantine. So we think it would be a great idea if we fed his little pup-ego and distracted him from trouble with some amazing drawings of himself.
How The Drawing Contest Works…and NO, You Don't Have to Be an Artist to Enter

Just draw a picture of the fabulous Gilbert, take a photo or scan the picture you draw and send it to us through our contest entry form. At contest end, we'll pick one winner to receive some fabulous prizes.
You definitely don't have to be an artist to enter because this is contest is for FUN! We are looking for drawings who capture the essence of our naughty friend Gilbert and can't wait to see what you come up with.
Kids are welcome and encouraged to make drawings. But please note, a parent or guardian 19 years or older must submit the entry on the child's behalf. And hey, with the kids at home…this makes a great homeschool project, don't you think?
Drawing Contest Prizes
The winner of the drawing contest will receive ALL three of the following fabulous prizes…

…plus an autographed photograph from Gilbert himself!
WOW! Actually, we've got TWO autographed photos, so one photo will go to a runner up.


Drawing Contest Rules
Contest runs from 12:01 AM Eastern on April 1, 2020 – April 30, 2020 at 11:59 PM Eastern.
While we accept drawings done by children, a parent or guardian who is 19 years or over, must submit the drawing for entry.
Only original drawings accepted. Any non-original drawing entries are null and void.
1 entry per day per person.
Entries are accepted by web form provided on this website. You may also submit your entry by post to Happy Dog Island Store Inc. Suite 577 7184-120th Street Surrey, BC Canada V3W 3M8, but late entries will not be accepted.
No purchase necessary and purchase does not enhance chance of winning.
Winner will be selected based on creativity and ability to capture the essence of Gilbert.
Winner will be chosen, notified and announced on May 5, 2020.
By submitting a photo or scanned photocopy of your drawing, you agree that Happy Dog Island has permission to publish your photo in all of its marketing campaigns.
Contest run and sponsored by Happy Dog Island Store Inc. Suite 577 7184-120th Street Surrey, BC Canada V3W 3M8
Void where prohibited.
Here's more Gilbert to get your creative juices flowing. And again, find all Gilbert, all the time, on Instagram right here.

One More Way to Win AND Show Your Support of Dog Rescue.
Join the Happy Dog Island Community and Have Your Chance at Winning a $25 Gift Card
We'd love to have you join our community of dog lovers. When you sign up, you'll receive a 20% off coupon for our store and have your chance to win a $25 Gift Card (winner chosen by random draw, announced on April 5, 2020, entry deadline at 11:59 PM EST on April 30, 2020).
A little bit about what we do and why we'd love to have you join us…
While Happy Dog Island is a virtual island with no set location, we imagine it as wonderful place where all dogs are loved and cared for. They don't go hungry. There is no abuse. They just get to nap, play, get pets, have treats and bring joy to their humans all day long.
And we would love to see the real world reflect that same care for all dogs everywhere.
In support of that goal, our company, Happy Dog Island Store Inc., works to see as many dogs adopted as possible by providing resources, sharing stories and donating a portion of its profits to some of our favorite rescue organizations.
If you'd like to support in our goal, get special offers and hear more amazing dog stories, please enter your name and email address below and we'll stay in touch. And again, you'll instantly get that 20% off coupon AND your chance to win a $25 gift card.
Thanks for signing up for the Happy Dog Island Community. We look forward to keeping in touch!
Your friends at HappyDogIsland