Is Adopting a Dog Right for You?
Download This Free Kit to Find Out Exactly How to Do it Right
Adopting a dog is a big step and there are things you need to know before jumping in. Watch the video below for more details or keep reading to find out how to instantly download your free adoption kit.
One of the Most Rewarding Things You Can Do

We're sure you already know adopting a dog is one of the most wonderful and rewarding things you can do…and there are VERY good reasons for that. Now we may be preaching to the choir here, but…
You're helping the canine community and giving a precious animal a second chance at a great life.

You're helping shelter and rescue organizations stay in business, so they can continue to do their important work.
Plus, you get a dog at a great price, but more importantly, you get a precious new family member who needs you, just as much as you need him.
BUT Before Making This Big Decision, You Need To Know:
If adopting a dog is right for you (it may not be)

What type of dog is best for you or your family

What you need to be able to care for a dog
That's exactly why we've created this downloadable kit to help you make the best decision for you or your family.
For a Limited Time, You Can Download The Kit for Free and Get Instant Access to: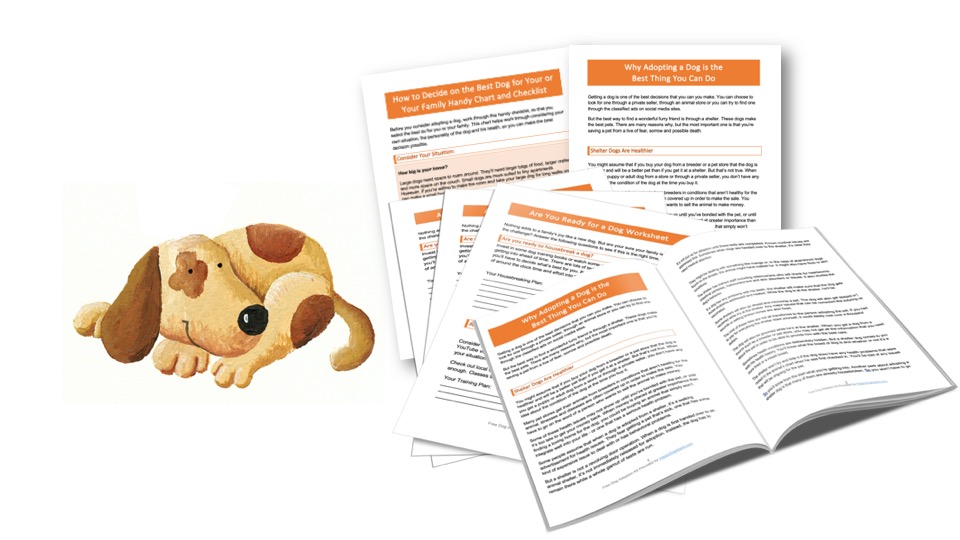 "Why Adopting a Dog is the Best Thing You Can Do" Guidebook – discover 10 amazing benefits of adopting a dog, instead of purchasing from a breeder.
"Is a New Dog Right for You?" Worksheet – Use this handy worksheet to ensure you're ready to welcome a new dog into your home.
"How to Decide on the Best Dog for You and Your Family" Chart and Checklist – This easy-reference checklist will help you figure out exactly what kind of pet is best for you.
"Everything You Need to Welcome a New Dog into Your Home" Checklist – Another handy checklist to ensure you're ready to welcome the newest member of your family.
If you're ready to change your life AND save a precious dog, just enter your name and email address below…but do it now, while the kit is still free.
We'll also keep you up-to-date on tips for your dog, amazing dog stories and products we'd love to share with you.